SOOTHIN'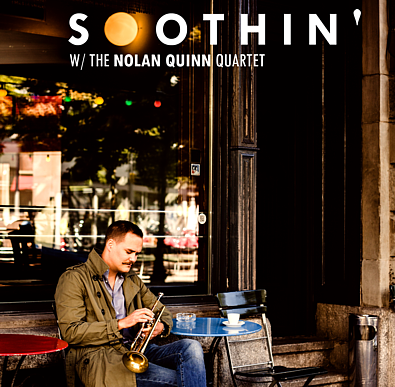 Produced by Nolan Quinn.
Recorded in January 2017 in Lucerne, Switzerland.
Supported by the cultural funds of Stadt Luzern and Repubblica e Cantone Ticino.
Broadcastings by RSI Rete Due and Radio Swiss Jazz.
TRACK LIST
How Are Things In Glocca Morra (Harburg / Lane)
Gentilmente (Simon Quinn)
▶ Give And Take*
J. W. M. F.*
Once Upon A Day*
The Other Duke* written in memory of Duca Marrer
Only For The Honest (Joris)
▶ I Remember Clifford (Golson)
* Composition by Nolan Quinn (registered at SUISA, Switzerland).
THE REPERTOIRE
The sheet music Nolan readied for the new album features original compositions and arrangements, which emphasize the more subtle and lyrical nature of trumpet playing.
«The mood I want to set with this album certainly has its roots in my involvement with the music of Jazz coryphaei both past and living. On the other hand, having composed new music and arranged some beautiful tunes, I'm able to pick up my own discourse and take it to the next level.»
RHINOCEROS JAZZ RECORDS
Rhinoceros Jazz Records champion a unique philosophy about music production and distribution. Newly established in Switzerland, they just released the album.
NOLAN QUINN QUARTET
For the occasion, Nolan has put together a brand new quartet. Touring with him are Oliver Illi on piano, Rafael Jerjen on double bass and Sheldon Suter on drums.
«My work and friendship with Oliver reaches back a long time. He's been the ideal bandmate and accompanyist—I like his Ravelian approach to harmony, his percussive feel on piano and his ability to break through conventionalities time and again.
Rafael strikes me as an exceptionally proficient, versatile and up-front bass player. I'm thrilled to have him laying down the foundation in the low register.
Sheldon and I happened to grow up in the same area. He's the right man to add to the shine and crispness of the band with his sound on drums and impeccable Swing feel.»
AUDIO ENGINEERING
Drawing inspiration from phonograph records, Nolan sat down with audio engineer Chris Diggelmann to outline the techniques and aesthetics of the recording.
«I came up with a challenge on how to make this album sound—not just from the musician's standpoint. For example, the decision to release a monaural recording with no edits speaks for an unusually holistic approach. What the listener hears on this album is by all means genuine and hopefully conveys the spontaneous creativity of those very moments.»
RELEASE CONCERTS
For upcoming shows be sure to visit the «Live» page or find Nolan on Facebook . . .
➸ Jazz Winter Meeting Lugano, 2018
➸ Kleine Leckerbissen Luzern, 2017